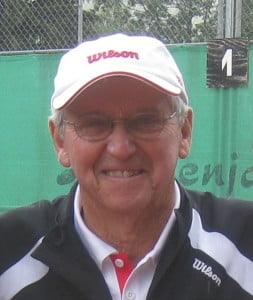 Information from Wikipedia: Roy Emerson
Emerson Tennis Centre | Roy Emerson
Roy Stanley Emerson (born 3 November 1936) is an Australian former number one amateur tennis player who won 12 amateur Grand Slam tournament singles titles and 16 Grand Slam tournament men's doubles titles (14 amateur. 2 open). He is the only male player to have completed an amateur Career Grand Slam (winning titles at all four Grand Slam events) in both singles and doubles. His 28 Major titles (26 amateur, 2 open) are an all-time record for a male amateur player. Roy Emerson is the first male player to win each amateur Major title at least twice in his career. In the history of tennis, only Margaret Court achieved this feat before him. He is one of only seven men to win all four Majors in his career (the others are Fred Perry, Don Budge, Rod Laver, Andre Agassi, Roger Federer, and Rafael Nadal). Laver, Agassi, Federer and Nadal did it in the "open" era. He was the first male player to win 12 Majors, though all his majors were won as an amateur, when most of the world's best players (above all Laver and Rosewall) were in the pros. His 12 wins were surpassed by Pete Sampras(14), Roger Federer (17) and Rafael Nadal (14), all of whom won their titles in the open era. Emerson is only one of five tennis players all-time to win multiple slam sets in two disciplines, only matched by Margaret Court, Martina Navratilova, Frank Sedgman and Serena Williams.
Biography Emerson was born on a farm in Blackbutt, Queensland. His family later moved to Brisbane and he received better tennis instruction after attending Brisbane Grammar School and Ipswich Grammar School. Emerson won his first Grand Slam tournament doubles title in 1959 at Wimbledon (partnering Neale Fraser). In 1961, he captured his first Grand Slam tournament singles title at the Australian Championships, beating compatriot Rod Laver in four sets in the final. Later that year, Emerson claimed his second Major singles crown when he again beat Laver in the final of the US Championships.
Affectionately known as "Emmo" on the tour, the six-foot right-hander was known for training hard and always being ready for strenuous matches because of his outstanding level of fitness. He was primarily a serve-and-volley style player, but was also able to adapt to the rigours of slow courts, allowing him to enjoy success on all surfaces. From 1963 to 1967, Emerson won five consecutive men's singles titles at the Australian Championships. His six Australian singles crowns are a record for a male player. Roy Emerson at the 1963 Dutch International Tennis Championships in Hilversum. 1963 also saw Emerson capture his first French Championships singles title, beating Pierre Darmon in the final. Emerson's first Wimbledon singles title came in 1964, with a final victory over Fred Stolle.
Emerson won 55 consecutive matches during 1964 and finished the year with 109 victories out of 115 matches. He won three of the year's four Grand Slam events that year (failing to win only the French Open). During his amateur career Emerson received several offers to turn professional, including an £38,000 offer made at the end of 1964 by Jack Kramer, but declined and opted to remain an amateur. Emerson was the World No. 1 amateur player in 1964 and 1965 according to Lance Tingay of The Daily Telegraph and in 1967 according to Rex Bellamy. In 1965, he successfully defended his Australian and Wimbledon singles crowns. He was the heavy favourite to win Wimbledon again in 1966, but during his fourth round match he skidded while chasing the ball and crashed into the umpire's stand, injuring his shoulder. He still finished the match, but was unable to win. Emerson's last Major singles title came at the French Championships in 1967 – the year before the open era began.
His 12 Major singles titles stood as a men's record until 2000, when it was surpassed by Pete Sampras. Emerson had 10 straight victories in Grand Slam tournament finals (the last ten in which he participated), which remains an all time record. Emerson's final Grand Slam doubles title was won in 1971 at Wimbledon (partnering Laver). His 16 Grand Slam doubles crowns were won with five different partners. From 1960–1965, he won six consecutive French Open men's doubles titles.
Jack Kramer, the long-time tennis promoter and tennis great, writes in his 1979 autobiography that "Emerson was the best doubles player of all the moderns, very possibly the best forehand court player of all time. He was so quick he could cover everything. He had the perfect doubles shot, a backhand that dipped over the net and came in at the server's feet as he moved to the net. Gene Mako and Johnny van Ryn could hit a shot like that sometimes, but never so often nor as proficiently as Emerson."
Emerson was also a member of a record eight Davis Cup winning teams between 1959 and 1967. Emerson's 12 singles and 16 doubles titles make him one of the leading players in Grand Slam tournament history. Emerson's last top-20 ranking was in 1973, primarily owing to his winning his 105th and final career title at the Pacific Coast Championships in San Francisco. He defeated Roscoe Tanner, Arthur Ashe, and Björn Borg in the last three rounds of that tournament. Emerson played just a few tournaments through 1977. His last appearance was in the Gstaad, Switzerland tournament in 1983.
Although he exited the tournament circuit, Emerson did not retire. In the late 1970s, he served as a player/coach for the Boston Lobsters in World Team Tennis. He mostly played doubles with the Lobsters and often teamed with fellow Australian Tony Roche. In the 1978 season, the last season under the original iteration of World Team Tennis, Roy coached the Lobsters to the Eastern Division Championship and into the League Playoff Finals against the Los Angeles Strings. While the Lobsters were the favourites to win the Championship that year, their young star, Martina Navratilova, was forced to have surgery to remove calcium deposits from her shoulder and missed the finals. As a result, the Los Angeles Strings led by Chris Evert and Ilie Năstase prevailed in the championship round. The final Lobster team that Emerson coached consisted of Tony Roche, Mike Estep (for part of the season), and Emerson himself as the male players. When Estep got hurt, he was replaced by the Australian player Dale Collings, who at the time, along with Colin Dibley, was reputed to have the fastest serve in professional tennis. The women on the team were headed by Navratilova and included Terry Holliday, Anne Smith and Una Keyes, who was a local New England amateur champion. Shortly after the 1978 season, the owners of World Team Tennis voted to disband the league. It later was resurrected by Billie Jean King with a lesser season and an emphasis on younger up and coming players.
Emerson now resides in Newport Beach, California and has a home in Gstaad where he holds a tennis clinic each summer. The main court for the Allianz Suisse Open Gstaad has been named "Roy Emerson Arena" in his honour.
His son, Antony, was an All-American in tennis at Corona del Mar High School and the University of Southern California and played on the professional tour briefly. Roy and Antony won the United States Hard Court Father-and-Son title in 1978. Roy briefly coached promising juniors at East Lake Woodlands in Oldsmar, Fl. His students included Pat Cash, Kim Warwick, and Derek Damico.
The Roy Emerson trophy, which is awarded to the male champion at the Brisbane International, is named in his honour.
Honours Emerson was inducted into the International Tennis Hall of Fame in 1982 and the Sport Australia Hall of Fame in 1986. In 2009 Emerson was inducted into the Queensland Sport Hall of Fame.
Roy Emerson

Full name
Roy Stanley Emerson
Country
 Australia
Residence
Newport Beach, California
Born
3 November 1936 (age 77) Blackbutt, Queensland, Australia
Height
6 ft (183 cm)
Turned pro
1968 (amateur tour from 1953)
Retired
1983
Plays
Right-handed (one-handed backhand)
Int. Tennis HOF
1982
Singles
Career record
397–156
Highest ranking
No. 1 (1964)

Grand Slam Singles results

Australian Open
W (1961, 1963, 1964, 1965,1966, 1967)
French Open
W (1963, 1967)
Wimbledon
W (1964, 1965)
US Open
W (1961, 1964)
Doubles
Career record
204–65

Grand Slam Doubles results

Australian Open
W (1962, 1966, 1969)
French Open
W (1960, 1961,1962, 1963, 1964, 1965)
Wimbledon
W (1959, 1961, 1971)
US Open
W (1959, 1960, 1965, 1966)

Team competitions

Davis Cup
W (1959, 1960, 1961, 1962, 1964, 1965, 1966, 1967)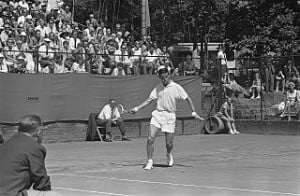 Grand Slam tournament finals Singles: 15 12 titles, 3 runners–up
| | | | | | |
| --- | --- | --- | --- | --- | --- |
| Outcome | Year | Championship | Surface | Opponent in the final | Score in the final |
| Winner | 1961 | Australian Championships | Grass |  Rod Laver | 1–6, 6–3, 7–5, 6–4 |
| Winner | 1961 | US Championships | Grass |  Rod Laver | 7–5, 6–3, 6–2 |
| Runner-up | 1962 | Australian Championships | Grass |  Rod Laver | 6–8, 6–0, 4–6, 4–6 |
| Runner-up | 1962 | French Championships | Clay |  Rod Laver | 6–3, 6–2, 3–6, 7–9, 2–6 |
| Runner-up | 1962 | US Championships | Grass |  Rod Laver | 2–6, 4–6, 7–5, 4–6 |
| Winner | 1963 | Australian Championships | Grass |  Ken Fletcher | 6–3, 6–3, 6–1 |
| Winner | 1963 | French Championships | Clay |  Pierre Darmon | 3–6, 6–1, 6–4, 6–4 |
| Winner | 1964 | Australian Championships | Grass |  Fred Stolle | 6–3, 6–4, 6–2 |
| Winner | 1964 | Wimbledon Championships | Grass |  Fred Stolle | 6–4, 12–10, 4–6, 6–3 |
| Winner | 1964 | US Championships | Grass |  Fred Stolle | 6–2, 6–2, 6–4 |
| Winner | 1965 | Australian Championships | Grass |  Fred Stolle | 7–9, 2–6, 6–4, 7–5, 6–1 |
| Winner | 1965 | Wimbledon Championships | Grass |  Fred Stolle | 6–2, 6–4, 6–4 |
| Winner | 1966 | Australian Championships | Grass |  Arthur Ashe | 6–4, 6–8, 6–2, 6–3 |
| Winner | 1967 | Australian Championships | Grass |  Arthur Ashe | 6–4, 6–1, 6–1 |
| Winner | 1967 | French Championships | Clay |  Tony Roche | 6–1, 6–4, 2–6, 6–2 |