Emerson Tennis Centre | Junior Tennis Coaching
Hot Shots Tennis, Junior Squads, Private Lessons and much more all available now!
At the Emerson Tennis Centre we have loads of programs and junior tennis coaching classes on offer for all our budding Lleyton Hewitt and Sam Stosur's! In addition to our regular Hot Shots tennis coaching classes, the club offers juniors plenty of match play opportunities including our own Super 8's and Super 10's which introduces kids to competition tennis in a fun, social and inclusive environment.
There is also our High Performance Squads for gifted young players which is by invitation only. To find out more about our Junior Player Pathways please click here.
To enrol into one of our junior tennis programs simply click below.


Hot Shots Fundamentals for 2 to 4 year olds
A fun introduction to ball skills, basic athletic and coordination skills which are the essential foundations for tennis.
Hot Shots Red for 4 to 5 year olds
A fun introduction to ball skills, basic athletic and coordination skills which are the essential foundations for tennis.
Hot Shots Red Plus for 6 to 7 year olds
Played on a smaller court, at this early stage the emphasis is on developing the core tennis skills whilst taking part in lots of fun activities, short matches and team competitions.
Hot Shots Orange for 8 to 9 year olds
Played on an 18 metre court using a slower orange ball, children begin to develop an all-court game, using more advanced tactics and techniques. Competition includes slightly longer matches, played both individually and as part of a team.
Hot Shots Green for 10 to 11 year olds
At this stage, children will be able to cover a bigger court using a green ball. We emphasise continued technical and tactical development using increased power and spin, as well as specific athletic skills.
Hot Shots Yellow for 12+ year olds
Our Hot Shots Yellow junior tennis classes for those aged 12 and over cater for all levels, from beginners to social players.
Hot Shots Leagues
A fun introduction to competitive tennis. Our coaching staff run this fantastic Red, Orange & Green Ball competition each week where players learn how to score and play matches in a fun, social environment. The perfect stepping stone into representative tennis.
Tennis Brisbane Super League
Players aged over 10 years or those who have progressed through the Super 10s competition are eligible to represent the club in the Tennis Brisbane Superleague competition. Superleague is one of Australia's largest fixture competitions with nearly 1000 teams competing each week in various competitions. We're always on the lookout for players so if you're interested in finding out more about Superleague please contact Manager Cathy Lee on 07 3367 8585 for more information.
Development Squads
For those players who are keen on improving their game and getting into competition. Our coaches teach more advanced techniques and tactical applications that will pay off in their matches.
If you are not sure which program would suit your child, please contact our staff on 07 3367 8585 and we can help you.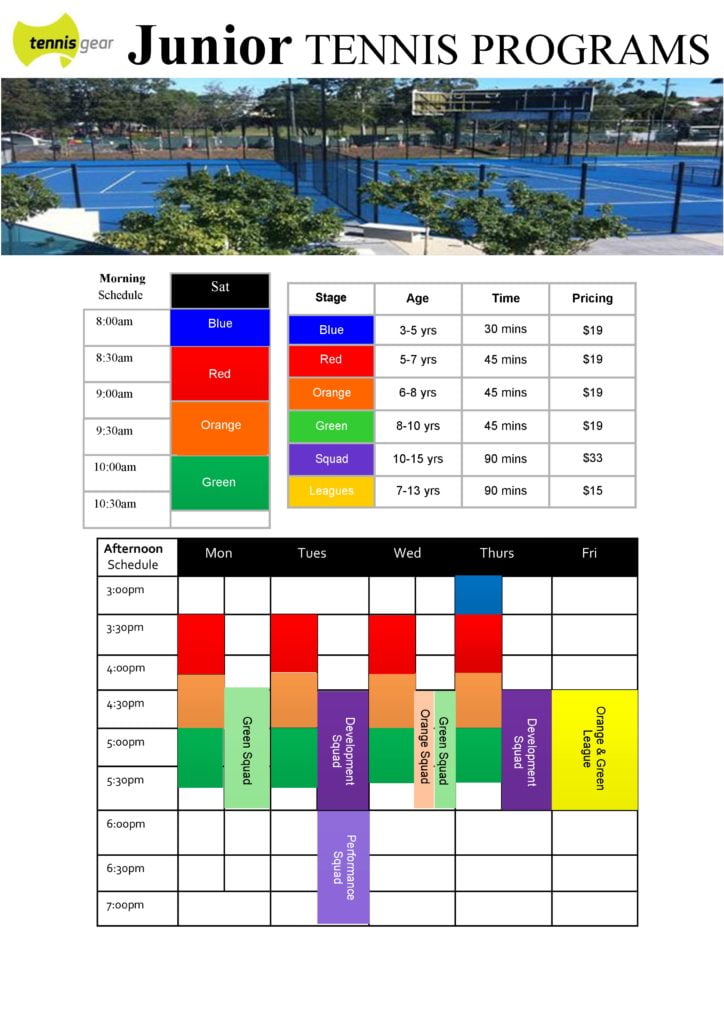 For further information about our coaching programs or membership please visit our FAQ page or contact us today.